We service the tri-state area which is New York, New Jersey and Connecticut.
Fumigation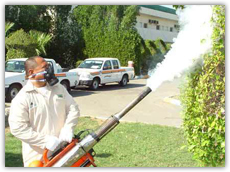 Green Eco Environmental aims to have a level of excellence in all services. Therefore, we offer only those services which helps to make your environment healthy. The materials used in the services are organic in nature and that's why it doesn't have any negative effects on the environment.
Green Eco Environmental offers fumigation services which is the quickest way of controlling infestation in a particular commodity or place.
Benefits of Fumigation
It saves considerable amount of time, effort and money.
It is non-toxic to humans, pets and efficient in controlling and killing all life stages of the pest.
It reaches places where other sprays cannot reach.
There is a reduced residue problem.
Fumigation services are offered by many agencies but it is your decision to use a cheaper but ineffective service or opt for the one that has provided you with years of experience and service. Our trained professionals are efficient is dealing with the job quickly and safely. There are many methods that are employed in succeeding, keeping in mind that the desired results should be in line with the green environment.
Why us?
Fumigants are lab tested and monitored.
Use only organic fumigants.
Well-equipped with latest technology.
Helping in making the environment green.
Trained personnel are hired for the treatment.