We offer the best exterminating services in tri-state area which is New York, New Jersey and Connecticut.
Bed Bug Dogs in New York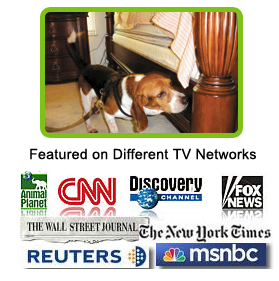 Growing focus on integrated pest management and green pest management in New York, has lead to a new kind of bed bug eradication solution - Bed Bug Dogs.
Bed Bug dogs are bed bug detection dogs, who are specially trained to identify the odor of bed bugs and locate the places where they are present. This helps the exterminators to spray at the exact area to destroy the bugs. This method of bed bug elimination is slowly gaining popularity, because not only it is faster but more accurate as well.




Smell Capability

For centuries, dogs have been used for tracking due to their amazing smell capability. On an average a dog has 200 to 250 million scent receptors in its nose and the nasal membranes it has can cover up to 7 square meters. The dogs posses such sensitive smell ability that allows them to easily smell things which most scientific instruments will fail to detect. They smell in parts per trillion, something that humans are incapable of. This is the reason why they can detect bed bugs promptly and effectively. Research has confirmed that use of bed bug dogs is genuinely a viable alternative to traditional procedures of bed bug detection.
Bed Bug Detection in Matter of Minutes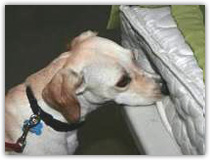 Bed bug detection can be a complicated process owing to the fact that, these insects hide almost anywhere and locating them can be a potential problem. However, Bed bug detection dogs do not face this problem as they are small and agile. They can sniff and reach wall voids, crevices, bedding and furniture gaps without much difficulty as well as, have the agility to crawl into tight spaces. Generally, smaller dogs are favored more, due their ability to tackle tight spaces with ease. These trained sniffer dogs can sniff out any parasitic insect infestation within minutes. This unique ability of beg bug dogs, enables them to identify where the bed bug problem exists. A well-trained NY bed bug dog can thoroughly examine a room and detect bed bug infestations in 2-3 minutes. This is less than the time that a human would take using visual clues, to do a through inspection of the room. Normally, these dogs can locate bed bug infestations within a three-foot radius. All dogs that are used for this purpose are trained to alert their handlers, to the existence of bed bugs by barking or swatting a paw.
The New York bed bug dogs assist the expert exterminators to control the bed bug infestations by determining what all areas to treat and, as follow-up indicate whether all bed bugs have been eliminated completely.
With quick and appropriate detection of bed bug infestations by NY bed bug dogs, a bed bug free environment is certainly ensured.
NightWatch Bed Bugs Detection Device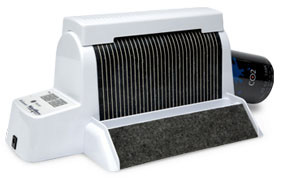 NightWatch is a monitoring device that helps in detecting bedbugs. This monitoring device employs three bed bug attractants including CO2, Kairomone lure and a thermal lure. The device mimics as a breathing human body, attracting bed bugs in search of blood. It is a self-controlled device, i.e., it turns on during periods, when bedbugs are active and turns off when they become inactive.
When bedbugs approach the monitor, they think it to be a human and while trying to feed on the device, fall into the pitfall traps, and get caught. The monitoring device has the capability to catch both mature and immature bedbugs easily. The monitor's detection period spans up to 7-10 days. It can detect infestations quite early and thus regarded to be best bed bug detection solution, hitherto.
The NightWatch Bedbug Monitor has been developed, keeping a bedbug's physiology in mind and how they search for blood, combined with extensive laboratory and field testing. Several tests has proved that NightWatch is capable of detecting infestations up to 99.98%, during a period of 7-10 days.
NightWatch is the appropriate device for monitoring locations, where humans may not be present like vacant rooms, vacant homes or hotel rooms. It is also well-equipped to monitor places like office buildings, schools, etc. Research has demonstrated that NightWatch is also an effective tool, when the need is to detect bed bugs, present in low population. All these excellent features, make NightWatch an invaluable bedbug detection solution.
NightWatch bed bug monitoring device has been exempted from EPA Registration, because its use is solely for the purpose of monitoring and detecting bed bugs and does not produce any toxic substances.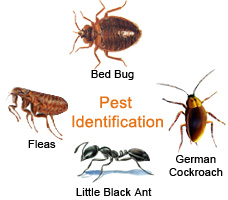 Request Free Consultation
Testimonials
"The ants in my garden had really become a nuisance for me. When one of my friends told me about NYGreenEco, I called them to have a look on the garden and offer a solution. They cooked up a customized solution to help me get rid of the miscreants. The way they work is really amazing!"