We offer the best exterminating services in tri-state area which is New York, New Jersey and Connecticut.
Cryonite® The Newest and Most Effective Treatment For Bed Bugs and Other Pests
Cryonite® has been used extensively in Europe and Australia to kill many types of insect pests including German cockroaches and bed bugs. Green Eco Environmental is one of the first pest control firms to bring this innovative and effective non toxic pest control treatment systems to America. Cryonite® is a non-toxic new treatment for pest control that kills pesticide resistant bed bugs and most insect pests in all life stages by rapid freezing. The Cryonite machine sprays CO2 snow at -110º F.
The Cryonite® method uses the extreme cooling properties of liquid CO2 (carbon dioxide) to kill pests. In the system liquid CO2 is transformed into and exceptionally cold, dry ice snow, and freezes the pests to death. The CO2 snow is not poisonous and leaves no wet or gummy residues. As it freezes the pest and is non-chemical, there is no risk of pests developing a resistance to the treatment. The pure CO2 presents no risk of contamination, even in sensitive industries.
How Does Cryonite® Kill Bed Bugs and Other Pests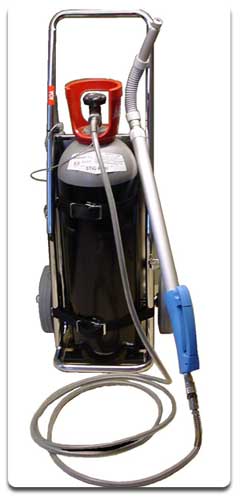 Bed bugs have started to become resistant to insecticides that have previously been effective and because of this the pest control industry has been struggling to find effective solutions to stopping the proliferation of bed bug infestations. Cryonite® will never lose its effectiveness against bed bugs as it is a chemical-free and non toxic. Cryonite® is a highly effective solution for the extermination of bed bugs.
Cryonite® has been shown to be extremely effective in killing German cockroaches and egg cases. These bugs just can not hide from the invasive vapor-like pressurized CO2 snow that Cryonite® makes freezing them dead instantly.
Cryonite® is CO2 (carbon dioxide) snow that is pressurized and when applied in thin layers kills bed bugs and other insects by a rapid freezing of the fluids in their cells causing instant death. When the CO2 snow hits surfaces at normal temperatures it evaporates and becomes CO2 gas. During this process energy is required and this heat energy is extracted from the immediate surroundings. If insects are part of the immediate surroundings the energy is taken from them and extreme cooling results, the water in their cells crystallizes to ice, killing the insects instantly. This crystallization occurs when the pest is cooled to -20ºC to -30ºC. The snow itself is -110º F and the target surface may hit temperatures as low as -20º to -40º F which is cold enough to kill nearly every pest. Material will only be chilled on the surface. Most materials have the ability to transport energy from their larger mass. When the pest is deep frozen, it has to stay frozen for a short while for a full kill. Cryonite® particles are optimized for reaching the pest, and clinging to it assuring an effective kill. Not only does Cryonite® kill bed bugs and other pests, but kills bed bugs and pest in all life stages including eggs that other insecticide treatments can not kill.
The CO2 snow made by Cryonite® is a mixture of three different types of particles: small, medium and large sizes. The three together will form snow with optimum freezing qualities. This mixture has been tested to give the optimum result against pests. As the CO2 snow is blown out of the patented applicator's nozzle, the vapors rapidly and easily penetrate bedding, box springs, the undersides of furniture, and cracks and crevices where bed bugs like to hide; freezing them to death in their hiding places. The snow vapor stream is simply able to penetrate places where other treatments simply can not reach for an effective "kill".
The CO2 used by the Cryonite® system is non toxic and is recycled from industrial processes. It does not add additional CO2 into the atmosphere. Cryonite® is a truly "green" system. There are no pesticide smells, messy wet residues, or health implications when Cryonite® is used. The CO2 used is food grade quality and presents no risk of contamination, even in sensitive industries. Find out more about how Cryonite® works in the Cryonite company's brochure.
Where Is It Safe to Use the Cryonite® System on Pests?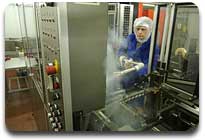 As Cryonite® is non-toxic and areas can be used immediately after treatment, Cryonite® can be used in many environments that were typically not suitable for toxic insecticides. Cryonite® can be used in all types of industries and areas and can be used to kill all types of pests not just bed bugs. It's the need for pest control that decides if Cryonite® should be applied, not the type of area. Here are a few areas where Cryonite® can be used:
Residential Homes
In homes, poison free treatments are welcome. Small children, elderly people, and pets (especially fish!) are some of the reasons. You don't have to evacuate!Cryonite® properties makes it very competitive to traditional, poisonous methods in many application areas.
Hotels, Motels, and Cruise Ships
Rooms can be rented immediately after treatment with Cryonite®. Our treatment provides for maximum kill of pests allowing you to maximize occupancy rates by lowering the down time for infected rooms.
Hospitals & Nursing Homes
One advantage of using Cryonite® here, is that the pests are killed instantly.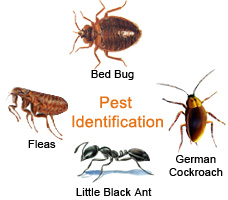 Request Free Consultation
Testimonials
"The ants in my garden had really become a nuisance for me. When one of my friends told me about NYGreenEco, I called them to have a look on the garden and offer a solution. They cooked up a customized solution to help me get rid of the miscreants. The way they work is really amazing!"