We service the tri-state area which is New York, New Jersey and Connecticut.
Bird Control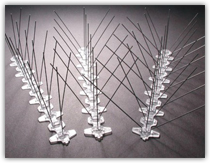 Green Eco Environmental aims at providing permanent solutions to pest bird problems. The installations are designed in a way that they are nearly invisible and are totally harmless to birds. We have the experience and expertise to deal with all kinds of bird related problems.
We ensure proper inspection of the interior and exterior structure which is vital to understand the requirement of the building whether commercial, residential or governmental buildings.
Necessity of Bird control
It damages interior and exterior structures of the building.
It damages sign boards, street lights and other equipment.
It contaminates food in storehouses.
It damages fruitsand vegetable gardens.
It creates a mess on the streets and structures.
It moves in large groups which causes a lot of noise.
It carries germs, parasites and diseases.
Green Eco Environmental have trained professionals who have the requisite skills and knowledge to trap birds without harming them. It requires proper skills to place traps at locations which will be monitored by our professional inspectors.
Every problem requires professional help and we understand your concern to protect your structures and farms against birds. Therefore, we ensure you to provide special techniques which will help to make your environment green and a good place to live in.