Green Eco the leader of Green exterminators in the tri-state area which is New York, New Jersey and Connecticut.
Home
>> Bed Bug Treatment
Bed Bug Treatment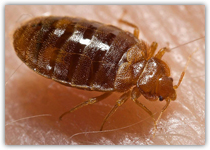 About Green Eco Environmental
Today, we're one of the leading green exterminators in NYC, Brooklyn, Queens, Bronx and Nassau County.
When we started way back, the trend in the pest control industry was to hit the pests hard with deadly cocktail of chemicals. Death did warm up to the creatures as a result, but had the repercussions for the humans as well:
Chronic exposure to pesticides led to neurological damage and reproductive disorders.
Pesticides drifted through the air, contaminating the waterways.
Persistent use of pesticides resulted in reduced soil fertility and lower crop yields.
It increased susceptibility to attack by new forms of pests and diseases.
We were determined to reverse the trend with our green approach.
We were convinced of our success. But most people and peers were not. They thought our concept of eco-friendly pest control looked good only in the books, and would not survive in competitive business.
Glad we've prove them wrong. We've emerged a leader in New York metropolitan region when it comes to green pest control.
Initially, green pest control service was a hard sell as the people were not very sure about its efficacy. However, a series of successful green pest control operations testified the mettle of the concept, prompting a shift in the people's perception. We soon found out that the businesses and homeowners had no issues using green pest control processes, as long as it served the purpose.
Our Mission
We treat pests where they live, not where you live. We strive to be on the frontier of green pest control solutions in NYC, Brooklyn, Queens, Bronx and Nassau County. Our goal is to play our part in rendering obsolete the industry's old way of doing things in pest extermination. Offering commercial and residential pest control with a sense for environment is in our priorities.
Our Emphasis
Informing people about the risks linked with chemical pesticides
Making green pest control preferred method of regular people.
Taking green pest control to schools, day care centers, yards and parks.
Our Challenges
We faced our challenges with tenacity and overcame them.
Our first major challenge was to make sure that green methods are as effective as the chemical ones. We use exterminating products extensively researched and tested in the laboratory that ensure the objective is attained sans any harmful effect.
Our second major challenge was to convince the people to rely on us. Thankfully, we were successful in all our initial assignments and we never needed to shout from the rooftop.
We faced and still do, challenges in our routine operations. But armed with extensive experience, faith on the efficacy of our products and methods, and an earnest desire to beat back the challenge, we confront, and emerge successful.
Why Choose Us
green pest control products made of natural ingredients
products as effective as toxic pesticides
no side-effect for you, your children and pets
no negative impact on the environment
reduced chance of cross contamination between treated and clean areas
We provide reliable, eco-friendly and cost-efficient approach to pest control.